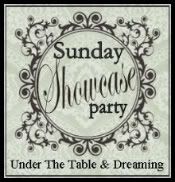 Hello! Thank you for stopping by!
What an awesome and inspiring Parade of homes I've been browsing through this week! There is so much talent in this community!
I'm throwing in my two cents, sharing our living room, it's where my family spends most of our time. It's constantly changing and evolving...but I'm really happy with it right now, I hope you enjoy!
You'll see a lot of influnce of the sea around my home, it's where I long to be...

I'm
in love with the color turquoise, I love to use it throughout the living room and kitchen
Spray paint is a close personal friend of mine, and a lot of furniture and accessories that I use have a coat or two of it on....this side table received a fresh coat of glossy white just last week (formerly black, grey before that)
The coffee table

I love having a round table, this grouping stays pretty much centered, and Logan is able to have his cars all around...the 'race track' is always open!

The sofa: the pillows never actaully stay like this, but being the only girl in the house...I gotta have my pillows!

This dresser has become one of my favorite pieces of furniture, it offers a lot of storage and acts as an end table

peek-a-boo!